Ahmad Mayyas - Community Entrepreneurship: Mayyas Establishment for Hydroponic Systems
Image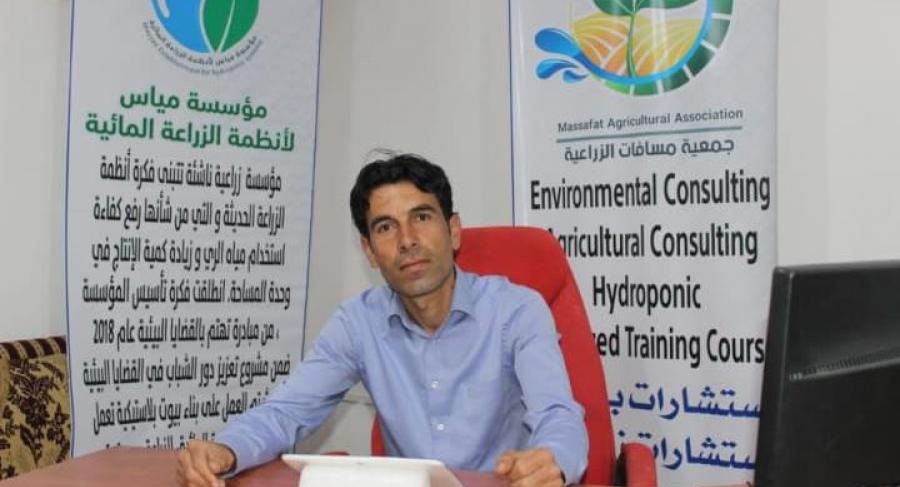 Ahmad Mayyas, a passionate farmer and a nursery owner, could not believe it when he was approached to volunteer as a focal point with Youth Without Borders (YWB) to build the first community hydroponic project in Ramtha, which was supported by HAED‐Jo (Hydroponic Agriculture and Employment Development‐Jordan) Project.
"It was a unique opportunity to be involved in an innovative agriculture project that I could not miss. I had heard so much about hydroponic projects in the past but I could not believe my luck when I was asked to work on one!" says Ahmad enthusiastically.      
YWB resembled what HAED‐Jo Project was looking for: a young, energetic group with commitment for community empowerment and inclusion of Jordanians and Syrian refugees in economic and social development.  Despite its young age, YWB had managed to launch sustainable interventions on education and income generating projects and to gain the trust of counterpart from both community members and supporting donors.  Founded in 2016, YWB is resolute in realizing the organization's mission: to develop skills and youth capacity, advance community participation, and motivate young people to become active and productive citizens.     
HAED‐Jo, in partnership with YWB, built four tunnel greenhouses and retrofitted them with hydroponic systems.  Two greenhouses were planted with over 3,800 seedlings of thyme and another house was planted with 1,900 seedlings of sage. The fourth house was planted with lettuce, and the same greenhouse was then used to grow green onions.      "I am happy to have volunteered in this project, the information and knowledge I gained are priceless. I foresee significant opportunities for this technology." reflects Ahmad.  Through hands‐on practice, continuous follow‐up with HAED‐Jo, advanced training, and consistent research, Ahmad was able to build on a wealth of knowledge and invest in a wider network; he decided to capitalize on this venture.
Considering this technology's advantages in advancing farming in his own community, Ahmad decided to start his own enterprise, Mayyas Establishment for Hydroponic Systems, to specifically promote this technology and conduct research on hydroponics. Not only did Ahmad Mayyas succeed in setting up a corporation creating job opportunities for Jordanian and Syrian nationals,  but  also contributed in uplifting the agricultural sector by training farmers in his area and introducing best practices.  
"I believe in creating change by spreading knowledge in the local community, so I also founded Massafat Agricultural Association, the first agriculture CBO in the area of Sahl Horan and Ramtha, to share expertise and advance services rendered to the local community." Mayyas Establishment for Hydroponic Systems presents a brilliant development model for building sustainable market systems that start and prosper through building partnerships with community groups and aligning business objectives with community good.  HAED‐Jo will continue to support Ahmad and similar innovative community initiatives.