Ayed Shakhanbeh : A local Farmer Paves the way for a Sustainable Horticulture Sector in Jordan
Image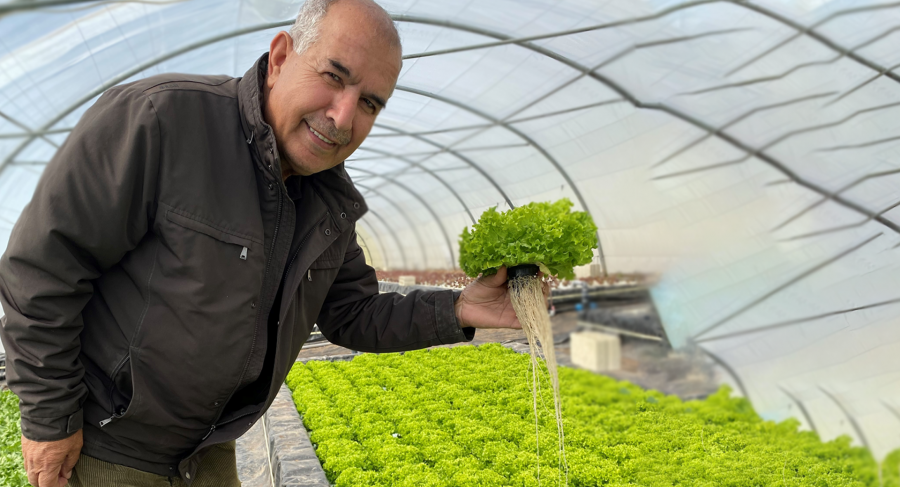 For some families traditional farming is their identity; unifies older and younger generations separated by hand-held technologies and digital social media. However, farmers maintain cross generational significance as they continue to be a part of the pillars of a functional society.
No one understands this more than Ayed Shakhanbeh, a dedicated Jordanian farmer and owner of Tala Farms in Madaba. Ayed's family has been farming since the 1960s and he started helping his father when he was just 8 years old. "We are a family of 17; I have 7 brothers and 8 sisters. As you know, the continuity of farming in extended families depends on the relationship between family members." In the small town of Madaba, agriculture did not seriously take off until the late 1960s. With ample water sources at the time, the population, including Ayed's family, relied for a while on the steady stream to thrive and reach self-sufficiency. Now retired with a family of his own; Shakhanbeh has been working on his farm and looking for ways to adopt new farming techniques including hydroponics in order to keep up with the evolving demands of the horticulture business and increase yields. "Traditional farming requires a lot of work, effort, manpower and financial support. Plowing, cultivation and irrigation are
conducted manually and is time consuming," Shakhanbeh said. Faced with such drastic circumstances, Ayed sought support from the Jordan Hydroponic Agriculture and Employment Development Project, a 5-year project funded by the Ministry of Foreign affairs of the Netherlands and implemented by ECO Consult. HAED-Jo focuses on promoting agriculture-led economic growth and improving the efficiency and productivity of the sector while creating workforce opportunities in the value chain and increasing livelihood opportunities for Jordanians and Syrian Refugees. Shakhanbeh resembled what HAED‐JO was looking for: a dedicated and energetic farmer with a commitment for community empowerment and social inclusion in economic development. Through the forged partnership, six new tunnel greenhouses were built and retrofitted with hydroponic systems. Primarily planted with lettuce an additional assortment of crops was supplemented: kale, celery, broccoli; as well as, green onions. "The support we received from HAED-JO was extraordinary, and I was especially satisfied after seeing produce quality. I was very skeptical at the beginning, to be honest, but I was astounded by the great results we achieved", Shakhanbeh explains. In consequence, Tala Farms succeeded in saving nearly 70% of its water bill and significantly reducing labor and agriculture input costs related to; irrigation, fertilization, and supplementary farming materials. "This partnership has also provided an opportunity for us to employ more Jordanians and Syrian refugees." Shakhanbeh
added
The impact, according to Shakhanbeh has yielded nearly half a million of lettuce heads annually. Tala Farms is currently a viable supplier to key establishments and hotels in Amman,Irbid and Aqaba. Furthermore, with such massive yields and the continued mitigation of sectoral obstacles, Tala Farms is now considering to initiate export to Kuwait and Iraq. Tala Farms presents a brilliant and successful development model for building a sustainable market system that starts and prospers through building partnerships with community groups and aligning business objectives with community good.